Address Change
If you've moved, please let us know right away!
If you have relocated to a different zip code, Claritus must transfer your postage meter license to the local post office servicing that zip.
Additionally, your postage meter will require an update that changes your meter indicia to read "Mailed From XXXXX," where "XXXXX" is your new zip code.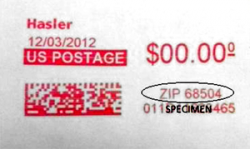 Please contact us at 800.726.1553 or claritusinfo@claritus.com.
We will be happy to update the necessary records with Hasler/Neopost/Pitney Bowes and the USPS on your behalf to ensure a smooth transition with no interruption in your mailing activities. 
Please provide the following information via phone or e-mail:
Your Name
Your Company's Name
Your phone
Your E-mail
(If changed) New Billing Address
(If changed) New Billing City, State Zip
New Physical Address
New Physical City, State Zip
Customer Number, TMS/POC or Meter SN#